If you clamp the breaks on, you just need the fly-sheet. no poles!
you'd probably want a front door, and inner on that mind you...
[edit!]
It already exists. The
Topeak Bikamper
comes in at 1.6kg.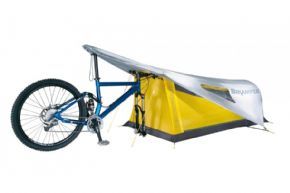 Doesn't quite seem light enough for me - I got an entire 2 man tent down to
1.3kg
for
touring
...